Dunkirk Play The Game - Issue 49 (Dec 1987 - Jan 1988)
Dunkirk FC 1987-88 - Issue 50 (Mar - Apr 1988)
---
From 'The Lenton Listener' Issue 49
December 1987 to January 1988
---
Dunkirk Play The Game
In Issue 47 we quizzed readers as to whether they knew where the John Pearson Gregory Ground could be found. Those who read on learnt that the answer was out by Clifton Bridge beside the River Trent and that it was the home of Lenton United Cricket Club. For this article we move next door in order to feature the Dunkirk Sports & Social Club.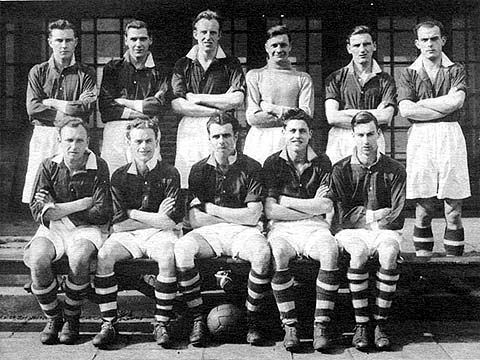 Dunkirk F.C. in 1947
Back Row - Andy Buchanan, Bill Cooper, Frank Woodhead, Dennis Burditt,
Harry (Ollie) Bourne, Bob Bragg
Front Row - Dennis Stanley, Ken (Titch) Eason, Jack Nix, George
Wvleman, Bill Payne
Our story begins in 1946. Dunkirk football undoubtedly has a longer pedigree than this, but the Second World War had caused its footballers to hang up their boots. With the war over, local man Ron Steel was eager to see Dunkirk back on the footballing map and was largely responsible for the re-establishment of Dunkirk F.C. He was to be its driving force for the next thirty-seven years until his death in 1983. The Club used to play home matches in the Notts Amateur League on one or other of the Corporation pitches at Highfields. Over the years they enjoyed a fair degree of success. These successes fostered the desire within the Club to 'go places', but there seemed no way this could happen while they continued to play on hired pitches.

Things, however, began to change in 1975, when the Club successfully negotiated with the City Council for the lease of their present home down by the Trent. Once an enthusiastic band of volunteers had helped level the ridge and furrows left by the departing farmer, they set about laying out two football pitches. The City Council had required the Club to maximize the use of the land and so a cricket square was established between the two pitches. At this point 'the Dunkirk Sports & Social Club' was brought in to being to oversee the activities of both footballers and cricketers.

The Club now had its own ground but the only changing facilities available were those further along the road at Grove Farm. In the ensuing years successful appeals for grants to the City, County and Sports Councils helped the Club to find the money to have a clubhouse constructed. This is not yet finished but phase 1 allows players the use of four changing rooms, showers, toilets and a temporary kitchen. When finances permit, the clubroom will be finished off and a bar installed.

Dunkirk Sports & Social Club started out with two football teams but these have now increased to four. One of these, 'Dunkirk Boat' came to them ready made in 1979. It had started life as a pub team formed by Jim McKechnie at the Red Cow but soon afterwards shifted its allegiance to The Boat. Playing in the. Notts Supreme League, last year Dunkirk Boat had one of its most successful seasons ever winning almost everything available. Dunkirk's second team Dunkirk 'A', play in the Premier Division of the Notts Amateur League and last year were league cup finalists and championship runners-up. The first team Dunkirk F.C., successfully gained entry into the 'Save and Prosper' Notts Football Alliance League in 1976 and have since progressed into the senior division where at the time of writing they lie second. This League is generally considered to contain some of the best amateur teams in Nottinghamshire, which is an indication of how far Dunkirk has come in recent years. A fourth team, Dunkirk Sports competes in the premier section of the 'Notts Sunday League'.

A continual supply of new blood is clearly needed to keep the four football and two cricket teams going and there are always vacancies for volunteers who would like to help run the teams. If anyone would like to offer their services, either on or off the pitch, please contact Roger Steel. One person who recently rendered the Club a great service is Alan Johnson of The Johnson Arms, who sponsored the purchase of kit and equipment for two of the teams this year. The Club is also most gratified to be able to announce that they have just obtained a major local sponsor in the form of Dunkirk Metals of Gibbons Street, who have agreed to give them a sizeable donation.

Most readers may not be in the position to volunteer for duties, but some may still be interested in seeing one of the teams in action. Weather permitting; there is a home game every Saturday starting at 2pm. Anyone without transport can meet up with the players at the Johnson Arms about 1pm where they should be able to get a lift to the ground - we anticipate they won't be disappointed.
---
From 'The Lenton Listener' Issue 50
March to April 1988
---
Dunkirk FC 1987-88
Owing to limitations on space we didn't have room to incorporate any up-to-date photos in our article on Dunkirk Sports & Social Club, which appeared in Issue 49. Now we can rectify that situation. Here are the members of their first team squad, Dunkirk F.C.
From left to right Back Row Keith Monks (Trainer), Nigel Bailey, Peter Holyk, Jimmy Parker, Keith Pepper, Gary Kelly, Roger Willis, Newton Young, Simon Cockayne, Roger Steel (Club Official).
Front Row Eddie Turner, Mark Frettingham, Steve Throssell (Manager), Stuart Attenborough (capt.), John Quigley (Coach), Martin Crawford, David Harbottle, Dietmar McNulty.
Seated on the grass Robert Steel (Mascot).
The Club recently signed up Dunkirk Metals of Gibbons Street as sponsors and the team's new strip now proudly carries the company's name. Dunkirk F.C. have enjoyed probably their most successful year ever and were top of the premier division of the Notts Football Alliance league at the time of writing. They did, however, still have Hucknall F.C. to play twice who lay second, and couldn't yet dismiss the challenge of Notts Police or Rainworth Miners Welfare. An exciting, if nail biting, finish to the season seemed guaranteed.
Not used in the original Lenton Listener article, this photograph by Paul Bexon shows players, mascot and sponsors of Dunkirk F.C. in 1988