---
Nottingham Evening Post
Monday 4th April 1960
Alan Sillitoe's Home In Film Of His Book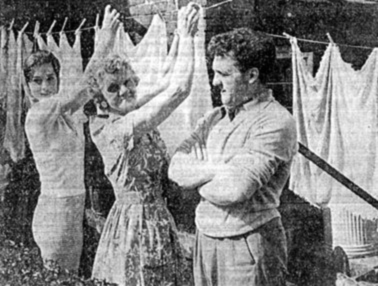 Shirley Ann Field (left) helps Mrs Sylvina Sillitoe, mother of Alan
Sillitoe, author of "Saturday Night and Sunday Morning", to hang out
washing, when filming of the best-selling novel was started at Mrs
Sillitoe's home in Salisbury Street, Radford, today. Looking on is
Norman Rossington, a co-star.
The story of "local boy makes good" was being underlined in Nottingham today, when a location unit from Woodfall Films went to the Radford home of author Alan Sillitoe.

Director Karel Reisz led the team, with stars Albert Finney and Shirley Ann Field, and some local extras, in shooting authentic Nottingham scenes for the film of Mr Sillitoe's best-selling novel, Saturday Night and Sunday Morning."

Much of the action in the novel takes place in the Radford area, and the Sillitoe home (where Alan's widowed mother is living) is being used as a key point for local colour.

Plans to shoot part of the film in the Old Market square yesterday morning had to be changed because of rain.

While 50 extras, chosen from a total of about 1,100 who applied, sheltered in a Nottingham Corporation double-deck bus near the square, members of the film production team gloomily discussed the weather and what they could do about it.

They gave the extras tea, and then everything and everyone was moved up to the Savoy Cinema, Derby Road. Crowds watched as cameras were fitted up, and the forecourt of the cinema was cleared for the stars, Albert Finney and Shirley Ann Field Most of the extras stood in a bus queue,

Later the film unit's activity revolved around a sweet shop in Salisbury Street.
---