from Ted Marriott
Babysitting Sandra on Lenton Rec'
In August 1950, my sister was born and mum asked me what we should name her.

I was 9 years old and in love with a film actress named Sandra Dorne after seeing her photo in the Film Revue magazine.

"Sandra Dorne," I suggested.

"Sandra Dawn," mum said, "mmm…. that's nice…Yes I like that."

And that's how you got your name, Sandra. Named after a film star you don't even know or have ever seen. Come to think of it, whatever happened to her? I never read any more about her.

Jim's sister, Sheila, lodged with us for a while around that time and I secretly welcomed her company. She must have been about 18 or 20 and I thought she was a beauty. I would watch her putting on makeup and scent when she went to the Astoria dance hall…She must have stayed with us for at least a year and I remember her drooling over a crooner, Al Martino, on the radio. I couldn't understand what all the fuss was about, but mum liked him too. He sang 'Here in My Heart' and was the number one record when the top twenty lists were started in'52.

When Sheila left, her other sister moved in. Jean was younger by a couple of years. But she didn't stay very long though.

It was getting near to Christmas and Jims dad, Grandad Woodhead, wanted to borrow Trix to stop thieves pinching the chickens he kept in his back garden. The dog was duly taken and about a week later I asked when he was coming back. Jim said that the people, who had taken the chickens, had this time taken the dog! Years later when I think about it, I wondered if Trix was put down after he bit a young lad on the street. If so, then o.k. that's what was best. But I know Jim lost interest in the dog and often shut him in the coalhouse .Who knows?

Halfway up Willoughby St was the Monty Hinds Boys Club. There we would try and play snooker, table tennis or use the punch bag in the gym. As I said earlier, I was a small kid and I thought I had broken my wrist when I punched the punch bag. I aimed the blow for all I was worth, thinking the bag would sway away from me, but no, I hit the bottom of the bag, which was solid. I fell to my knees holding my wrist, and then threw the gloves off. I stuck to table tennis in future.

Jim decided one Sunday that I should attend Sunday School. The Methodist church across the road from Monty Hinds was selected for me.

"Why?" I asked

"BECAUSE I SAY SO," he growled.

I was to attend starting the following Sunday, and sat bored to tears listening to the vicar drone on and on. Then we all sang hymns as the organist tried to find the correct notes. Sometimes the youngsters were sent home when some sort of service was to be performed, which was appreciated.

When Jim came home from the pub he asked me about the school. I told him I didn't like it and his reply was that I would get used to it. The following Sunday I was told to go to my lessons and on reaching the boys club I saw to my surprise the doors were open. It was now open on Sunday mornings and needless to say I did my hymn singing whilst I played table tennis. Prayed and played.

I never had to be told to get ready for school on a Sunday again and Jim crowed that he was right when he said I would get to like it. The idiot never found out.

The best part about going to the club was, on a Wednesday night, Mrs Curzon, a pensioner who worked in the canteen, made hot sausage and stuffing rolls. These were bought for thre'pence (3d) and if we didn't have enough she would take whatever we had, or sometimes give them to us.

I can't say I visited the club many times as we got bored with the amenities. None of us played football or cricket and most of us were too small to box.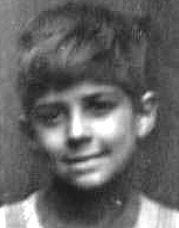 Age 10
During the cold winter months, Jim, on a Saturday morning, would take me to the coke yard on Faraday Rd in Radford. There we would queue for ages to buy a ticket for a bag of coke. A bag would weigh half hundredweight. We would go in the car and put the sack in the boot then drive home, about a three or four mile round trip. Jim must have got fed up with queuing as he sent me down on my own with a pram chassis and wheels to use as a trolley. In those days I wore short trousers and in winter the cold winds would bite at my legs.

The time taken from leaving home, queuing, loading up with coke and dragging the trolley back home was about two hours. The last time I made the trip was one Saturday when the snow was about six inches deep. Jim sent me off as usual and I returned frozen some three hours later. He took the sack off the trolley and emptied the coke in the 'coalhouse'. He then threw the sack back on the trolley and told me to fetch some more. Mum complained it was too much for me.

Although I was very small and puny at 11years old, I did not want Jim to think I would cry off going, and taking his money I said that I would go. I could hear mum moaning to him as I went. The queue at the coke yard was not so long this time as it had started snowing fast. I loaded up and wrapping the rope around my hand, started to pull the trolley along the street. That journey was the most strenuous thing I had ever done.

I couldn't walk too far as the wheels kept jamming with snow, my feet were slipping on the slightest gradient and my hands were dead from cold and the strain of pulling the rope. I cursed Jim every step of the way and even started crying with temper. I eventually got home about four hours later, cold, wet through, absolutely shattered and gasping for breath. Mum sent me upstairs for a hot bath and she started to talk to Jim, who by the way had never spoken to me when I came in. I never heard what was said as the bathroom was up two flights of stairs

When I came down mum had a hot cup of drinking chocolate and a plate of hot sausage sandwiches waiting for me. Jim had gone out to the pub as per usual.

I never heard mum argue much with Jim. I wonder if she was frightened of him. Whatever she said to him, I never had to make the coke run again. But my hatred for Jim was increasing.

One night as I lay in my bed I thought of running away. In my mind I thought out my plan. I would pack a suitcase and climb out of my bedroom window, jump onto the kitchen roof just below, then onto next doors gate and be off. I planned to spend my nights in a cave under the Nottingham Castle in the rock. I didn't plan too much about food, I thought as an eleven year old I would manage somehow. The one flaw in my plan was…a suitcase. I didn't possess one!

That night I went to sleep as usual cursing Jim. All this hatred must have played on my subconscious.

I would hate to even think that a child of mine could think the same venomous poison I harboured as a child through to a teenager, about Jim.

That night I slept walked. I remember clearly climbing out of the bedroom window in my pyjamas, jumping onto the kitchen roof and making my way to next doors gate. It must have been around eleven o'clock as the people next door were talking at their back door after a night on the booze. I could hear them slurring the words and had to move away from the roof ridge. I sat with my back to the chimney on the kitchen roof, my mind feeling no panic or fear. Suddenly the next-door neighbour in our yard came out. Mrs Kennedy was a tiny, white haired, frail, eighty year old lady. It's a wonder I didn't give her a heart attack when she looked up and saw me. She knocked on our door and mum came out and looked up in disbelief. She held out her arms and she caught me as I dropped down to her. Taking me in, she gave me a glass of hot milk and tucked me up in my bed.

Next morning I tried to analyze my actions. I came to the conclusion I must have been doing a subconscious dry run for my adventure. The next night I was still trying to sort out the suitcase problem when I thought of my portable wind up gramophone under the bed. Pulling it out and opening it up I unscrewed the turntable and arm and removed them, leaving just an empty box… I now had my suitcase.

I neatly folded a pair of trousers, socks, vest and underpants and a couple of shirts. I was now ready. I sat there on the bed wondering whether to go tonight or tomorrow. I decided on the latter and unpacked my clothes. Tomorrow, strangely never came and I gradually talked myself out of going.

I told my mum one night that I was going to run away. She wasn't very sympathetic to my cause and scolded me, saying I was highly strung. That term baffled me. Jim said it often about me.

On writing this line I have just looked up its meaning in the dictionary, 'of a timid nature, nervous, excitable and quickly agitated'. I wonder if I was 'highly strung' before he came on the scene?

I do recall on one occasion at dinnertime, I could not eat my mum's stew. I just could not palate the stuff and had to leave it. Jim was not very happy about it and told mum to save it for tomorrow. Tomorrow came and Jim told mum to get the stew from the oven for me. Mum put the plate in front of me, and one look at the thick dried gravy made me grimace. Jim ordered me to eat it.

I heaved and thought I was going to be sick and my eyes watered. Jim told me that I would have it again tomorrow if I didn't eat it. Mum took the plate away saying, "It wasn't right" and threw the meal away. Jim glared at me and raised his hand to backhand me. I cowered and started sobbing although no blow was struck. This was to happen regular, as he must have got a kick out of seeing me flinch.

Happier times were spent on a Saturday afternoon with my mates. We would queue at the Savoy cinema on Derby Rd with just about every other kid for miles around. The cinema was always popular and packed solid on these matinees.

The cost was 6d downstairs and 9d up. We always paid 6d.for two or three hours entertainment. The serials shown were either Batman, Superman (George Reeves) or Capt Marvel starring Tom Tyron. The westerns heroes were Roy Rogers (my favourite), Hopalong Cassidy, Gene Autry or Johnny Mack Brown. Another favourite cowboy was 'The Durango Kid', starring Charles Starrett (who?).I don't know why we all liked him as he was far from a kid and he wore a bandana across the lower part of his face. It's probably because he was always dressed in black and I liked the shape of his Stetson!

Comedy films stars were Laurel and Hardy, The Three Stooges, Harold Lloyd or cross-eyed Ben Turpin. Cartoons were Bugs Bunny, Road Runner and of course Disney characters. Good value for a 'tanner'

As extra entertainment, a competition was held to make sure you came the following week. One week we had a yo-yo competition on stage with a Canadian yo-yo master. I failed at first attempt.

Sometimes, if the film was boring or the film snapped the crowd would shout and scream and stamp their feet. The lights would come on and the manager would come on stage and threaten to chuck us out, only to run back behind the curtain as he was pelted with orange peel and chewing gum from the balcony.

At the end, to avoid having to stand for the National Anthem, a mad rush would be made for the exits and we would run down Willoughby St. Mick Patman would go galloping past with his dark blue gabardine mackintosh tied around his neck like a cape, slapping his backside to make him go faster.

On the way home we would buy a penny drink from a shop opposite Pete Selby's house on Willoughby St. These drinks were home made and the size and shape of a Coke bottle. We must have been that thirsty after sitting in the 'flicks' that we didn't care the drinks were just coloured water with a just hint of flavour. Usually though, we would get our money's worth as when we left the shop, after taking our empty bottle back, we'd pinch an apple from the display outside the window on the pavement. He never saw us, as he was busy refilling the bottles again.

For tea we would sometimes have bread and dripping or jam and finish with a couple of slices of balm bread or currant cake if we were lucky. We were all tea drinkers but sometimes for a change mum would make a cup of 'Camp' coffee. This must be the weakest coffee in the world and tasted crap, but we didn't know any better, but I stuck to tea. If we hadn't had it for dinner, mum would send me to Woody's chip shop at the top of the street with a basin. We would have chips, peas and a Sanderson's pie on the top covered in gravy. Those were the days when you got chips for 3d a bag or 4d for a bigger bag. Fish and chips, came to 5d more, pies were cheaper. On Willoughby St. there were two chip shops and to make sure you didn't walk down to the other one when chips weren't ready, the owner, Lucy, would take your cash as you gave your order in the queue. Often I would walk into the second chip shop and put more vinegar on my chips. I stopped going to Lucy's when I saw her cat climbing on the pile of potatoes in the back room and peeing on them.
Me at Skegness - 1950
Sunday lunch, (dinner in those days,) was the traditional roast and veg, followed usually with home made rice pud. This was mine and mums' favourite and reminded me of living with Nan, who always made me one in a little red and white enamel dish. I even remember the colour. This was washed down with a glass of either dandelion and burdock or cream soda. My favourite was Tizer. But this was only on a Sunday.

Back in those days not many people went out for a meal. I can only think of cafés that we visited, mainly when on holiday at either Chapel St Leonards or Skegness. That would only be for a pot of tea on a tray that was carried to the beach. Usually mum would pack up some sandwiches and if we were lucky we got an ice cream. 'Skeggy' sea was always miles out and I would be tired out by the time I'd walked to it, had a paddle and trekked back.

We stayed in a broken down old caravan at Tags Farm, somewhere at 'Skeg', and I would be sent to the cow shed with a bucket for fresh milk. I watched with turned up nose as the farmer aimed the cows' teats at the bucket and started to squirt the steaming liquid in. After it was brought back to the 'van, I would be sent to fetch a bucket of water from the stand tap at the end of the field. I usually had to make two trips, as I couldn't manage to carry a full pail. Then Jim would send me with the dirty water from the sink that was under the 'van, usually overflowing, to empty it in the sluice grate at the other end of the field. I always managed to spill the dirty water down my leg as the heavy bucket would catch the side of my knee. He only made the trip if mum complained. What I hated most was going to the sink block first thing in the morning for a wash. I would have to run across the field without a shirt and wash in cold water. Jim did it once to show me how it was done, but boiled the kettle in the 'van for the rest of the week, as he needed to shave. That was all right then, eh? In fact I only recall him carrying the buckets once to show me where to collect and empty water.
Me with Sandra at 'Chapel' - 1951
The best holiday was when Trevor Bennett, my cousin came with us to Chapel'. I was about 9years old and it was good to get away from Jim and play on the beach and really enjoy myself. That year I got badly sun burnt on my back and spent a few nights awake with calamine lotion spread over it.

The trip home would be punctuated by stops to let the engine cool down at The George and Dragon or some other pub. We would sit in the back seat with a cup of tea from the flask and a slice of bread and jam while Jim went in for a pint. Although not much traffic was on the roads in those days, the trip to 'Skeg' always had a traffic jam around Lincoln. The old cars couldn't make it up the steep hill near the cathedral and caused tailbacks when they spluttered to a stop in a cloud of steam.

It was better going home as it was down hill, but Newark would cause a delay at peak holiday times.

Jim wasn't very original when he took us out for the day. If we turned left at the top of Grove Rd we were going to Whatstandwell then Matlock, if we turned right we ended up at 'Skeg'.
Happy days at Skegness - 1953
Sometimes we would go out in convoy with Jim's relatives. It was amusing following Jims sister Madge and her husband Jimmy. Jimmy only had one hand and his right arm was a stump at the wrist, which he would madly wave about out of the window whenever he gave signals. Even the pedestrians gave a second look. I never did know how he lost his hand. Jim's brother Vic always had a decent motor and I always liked the Citroen 15 he once had. It was like the cars you always see in war films that the French resistance fighters used. He also once had an American or Canadian Hudson Terraplane, a car that seemed to be twenty feet long and took up two parking spaces.

Vic too was an invalid of sorts. He had sustained a war injury and shrapnel had taken out one of his eyes. I liked Vic as he always spoke kindly to me. I never really knew him, but liked him.

Jim's dad, Granddad Woodhead, was always busy making something, not just small projects either. We once visited him and he was building a caravan in his garden. He once built a caravan and a wooden chalet and kept them on a camp site at the bridge at Whatstandwell near Matlock in Derbyshire. In those days of late 40s and early 50s there was a strange assortment of holiday 'homes' on this popular field. There were of course a few tents, but alongside the tree line on the bank of the river were a selection of home made wooden chalets, caravans and three or four old railway coaches converted to living and sleeping quarters. They were comfortable and well fitted out too.
Whatstandwell (1900)
In the 1950's, just to the right of the trees in the foreground, stood a tea and snack
cabin. This was popular with bikers on their way to Matlock. The field to the left of
the bridge was where the caravans, chalets and tents stood.
The actual spot couldn't be bettered, as there was a pub on the bridge, a shop/café at the gate to the field and the River Derwent flowing between the green wooded hills. I couldn't swim in those days and just paddled in the icy cold river while the more adventurous men would swim and lark about in the deeper parts.

I used to love sitting in the chalet with mum when she was frying up breakfast. My mouth is watering as I write this, remembering the smell of frying bacon, eggs, sausages and tinned Tarantella tomatoes. I can recall the breakfasts but haven't a clue what we had for dinner.

If it was a warm evening we would all sit on the grass having tea with other campers and mum would get out her newly rented portable radiogram. It was a lizard skin covered case about eighteen inches square and about eight inches deep and contained a record turntable with a bakelite arm and a radio tuner. It ran on mains or batteries and played 78r.p.m.brittle wax records. Although it was state of the art, it still needed the needle changing after a couple of plays. I think mum only had two records. Rosemary Clooney singing 'C'mon a My House', c/w 'Botcha Me Bambino' and 'This Old House' were taken everywhere….'till they were dropped, cracked or sat upon.

We had quite a selection of these 78s, mostly from Nan's. Many were classical types but I can still recall playing them on her polished wooden wind up gramophone that stood in the front window of 7, Abbey Bridge. Names like Charlie Kuntz, playing various medleys at his piano and Stanley Holloway reciting monologues about "Sam picks up his musket", or telling a story about taking a young child to a zoo and the lion eating him. Listening intensely to these monologues I would forget to wind the spring in the motor and the narrator would sl.. o w..l y. sl. o.w do... wnnn… I would jump up onto the chair and wind furiously making him comically speed up. At the side of the arm of the player was a chrome dish for the steel needles. At the front of this piece of furniture were two doors. When opened, this was the 'volume control. Behind the doors was a wooden tunnel running back to the trumpet like arm and needle. To turn down the volume you either shut the doors or blocked the tunnel with some material or a pair of rolled up socks. Thus the meaning of 'put a sock in it' was when you wanted the noise level turning down.

There was a Roy Rogers and the Sons of the Pioneers record amongst them that I must have worn out the times I played it. 'Roll along Covered Wagon, Roll Along,' was one of the titles.

Mum must have thought these records weren't 'with it' and only took hers. I do recall Jim showing us how to make bowls out of the old or cracked 78s.He would put the record on the black leaded cast iron range at Nan's and the heat from the fire would soften the disc. He would then shape the side upwards to form a bowl with wavy sides and put it aside to cool and harden. But you still had a very fragile bowl. After two were broken within the next two days we never bothered again.

After my sister was born and we went out for the Sunday afternoon outing, I was designated babysitter and would have to sit keeping her amused if we pulled into a pub. I got sick of being told off by Jim when she cried and refused to go out with them again on Sunday afternoons. This didn't go down well and I was sent to bed till they all came home. If they came home a little late I was told to come down and given my tea, then Jim would send me back to bed for the night. I don't think he liked me getting my own way and I was made to go out with them on future occasions.

edward_marriott@hotmail.com
---