from Ted Marriott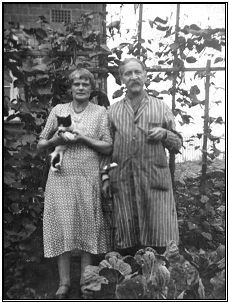 Anne and Sam Smith 1939
Back at her house, Nan would pick black currants or berries or rhubarb from the back garden and make us pies for tea. In the centre of the garden was an Anderson air raid shelter, its door always open and just enough room for about four people. Across the doorway was a spider's web with the biggest brown spider keeping guard. I can't recall ever any of us using the shelter at all.

Granddad Sam Smith died before I was born. His brother Herbert lived with us, but mum and Nan used to scowl and moan about him a bit. He'd probably outstayed his welcome.

Nan also had a black and white cat called Snowy (?) She had kittens and one was given to the Stevo's. Elsie shouted me to play in their yard (an unusual event) and when we looked up to the bedroom window we saw the kitten on the windowsill. For some reason it seemed obvious I should take off my jersey and Elsie was to hold one end and we would catch the kitten if it fell. With the jersey still around my head I heard Elsie gasp and then a slight thud. The poor puss died next day.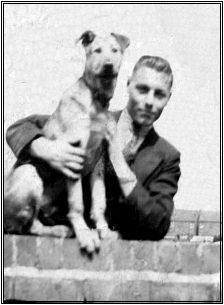 Ted Snr and 'Pat' 1939
We also had my dads dog, Pat, a cross breed Alsatian/Airedale. I remember riding on his back once and sitting under the table feeding him bread and jam. He got bit in a fight and his flank lost all its hair. Mum used to put a lotion from the PDSA on his wound but it never got better. He had to be put down when he started to get nasty. I've only just realised it, but I always called Pat, him. I never did know if the pet was a dog or a bitch. The only other livestock in the house were a box of yellow chicks that mysteriously appeared and just as mysterious, disappeared…Oh yes…. and the odd flea. Mum used to say that Herbert brought them in from work. He worked with horses.

Nan was a slim lady and always seemed to have on a hair net and pinny. She spoilt me rotten and often used to sit me on her knee and read my Rupert annual to me. Nan had a ritual that always puzzled me in later years. She worked at the 'Journey's End' café beside the market in the city, opposite a bus terminus. Yet every Saturday when she didn't work, we would catch a bus to market, go and buy 'THE WOMANS OWN' magazine from a news stand, have a pot of hot peas with mint sauce in the fish market, then walk over the road at the Palais De dance to another newsagent and buy 'WOMANS WORLD', another woman's magazine. Then it was off to the rear of the market to a bakers shop for a loaf of bread then board a bus home. It puzzled me because within walking distance of home, was Willoughby St, with shops of every trade selling their wares.
Outside The White Hart, Gregory Street
Just down the road from us is a pub called The White Hart. Outside the entrance on the edge of the kerb, are two sets of stone steps. These were once for the gentry to help them alight from their coaches when the pub was a court or gaol in days gone by. These steps bring back more painful memories as I fell on them face first, grazing my nose and ending up with a scab that begged to be picked and took weeks to heal. I was about 4 then. I fell over the same steps coming out of the pub some 15 or 16 years later, but that's another story and I didn't feel a thing.

Trevor Bennett, my cousin of the same age, lived just over the bridge in Marcus Street and his mum, Winnie (Auntie Nin) was my mums' half sister and often used to visit each other. One afternoon, I saw Auntie Nin comforting my mum who was sobbing her heart out. I ask Nan what was wrong and she showed me a drawing of Jesus in a magazine. "Your Daddy is with the angels now," she whispered. Of course I was too young to know that he had been taken a prisoner of war by the Japanese and incarcerated in Borneo. He had been a prisoner for three years, and his death certificate months later read that he had died through arduous conditions of captivity. He died on 4th July 1945, six weeks before the Japanese surrendered, age 29.

edward_marriott@hotmail.com
---