---
Latest Website Updates - 6th June 2021
Derby Road - Major Revamp & New Photographs, Harley Street - Childhood Memories, Lenton Lodge - Major Revamp & New Photographs, Lyndale House - 363 Derby Road - Update, Wollaton Park Estate - Farndon Green with Memories

Recent Updates
Cottesmore Girls School - New Photographs - 1939 1956, Cottesmore Girls School - Girls School Recalled 1943-1947 , Lenton Infants - New Photographs - 1960 1961, Willoughby Street - Wilson's the Chemist Recalled 1949-1951

Spree Postcard Updates
Arnold, Aslockton, Bestwood, Blidworth, Bulwell, Clifton Grove, East Bridgford, Hawksworth, Lincolnshire - Anderby & Sutton on Sea
---
Gallery Page Revamp – The Derby Road
This page now features several hundred photographs, both old and new, which have been taken at various points along the Derby Road from Canning Circus out as far as Woodside Road, Lenton Abbey.

Click here to view the page
---
New Electronic Copies of Back Issues of Lenton Times
During the current Covid-19 lockdown we have been busy creating electronic versions of some of the earlier editions of Lenton Times. A small number of coloured illustrations have been included where appropriate. The magazines are in PDF format and viewable on PC's, laptops or mobile devices.

New electronic copies of Lenton Times now available:- Issue 10, Issue 11, Issue 12, Issue 13, Issue 14, Issue 15, Issue 16, Issue 17, Issue 18, Issue 19, Issue 20, Issue 21 and Issue 22.
Also, click here for the Back Copies Index
---
Please Note - It is hoped that Lenton Local History Society's programme of events will restart in October. More news later.
---
Lenton Times Issue 42
Available NOW as a PDF Download - incorporating colour images where available

Featuring
Six Degrees of Separation: From the Beatles to Lenton - Nottingham's National Shell Factory - Private William Edward Davis – Cottesmore Boys School Recalled - The Original Red Cow Pub - George Henry Maltby of Nottingham Forest F.C. & the Red Cow, Lenton – Ballooning and Nottingham – 200 Years Ago: The First Balloon Flight From Nottingham – Some Highlights of Balloon Flights in Nottingham - Our Sponsor's Story – Society Snips
---
J. Spree - Nottingham Postcard Publisher
John Henry Spree (1869-1932), one-time Lenton resident, was a prolific publisher of picture postcards using his own photographs, not only of Nottingham and the county but also of villages in Derbyshire, Leicestershire and Lincolnshire.

Our website currently contains postcards of Nottingham: Basford, City Centre, Lenton, Sherwood, University/Highfields Park, Victoria Embankment/Trent Bridge, Wollaton, Wollaton Park and Estate. Nottinghamshire: Blidworth, Car Colston, Cropwell Bishop &amp, Cropwell Butler, East Bridgford, Gedling, Gonalston, Hickling, Sibthorpe, Trowell, Whatton, Willoughby on the Wolds. Derbyshire: Chee Tor, Marpool, Somercotes. Leicestershire: Long Clawson, Old Dalby: Saxelby. Lincolnshire: Anderby Creek, Huttoft, Mumby, Sutton on Sea, Woolsthorpe.

Click here for our postcard index
---
Lenton Local History Society - Electronic Membership
Electronic Membership for 2021 provides: electronic downloads of two back issues of your choice - - a digest of Lenton news for 1901 & 1871 in pdf form - access to the Society's online Flickr picture & newscuttings archive – an electronic copy of Lenton Times No.43.

Click here for details
---
Lenton Gallery
Shows photographs of the Lenton, Dunkirk & Wollaton areas Past and Present
---
The Lenton Listener
Selected articles from the magazine produced for Lenton Community Association between 1979 and 1988
---
Lenton Times Back Copies
We have revamped all the pages relating to Lenton Times backcopies. There is now one index which will link you to a separate page for each issue.

Issues No.1 - 8 have now sold out. So we are providing access on the website to all the articles that were included in these particular issues.

Special Offer now available
---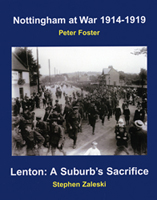 Nottingham at War: 1914-1919 & Lenton: A Suburb's Sacrifice
In the 1990s the Society established a project to learn more about the Lenton men and women who died as a result of the First World War.

It has now culminated in a new publication entitled Nottingham at War: 1914-1919 & Lenton: A Suburb's Sacrifice, published by Lenton Times in association with Leen Editions.
Special Offer for 2021
---
A review of
The History of the Parish and Priory of Lenton
by John Thomas Godfrey - 1884
The book was reviewed in the Nottingham Daily Express and published over four issues during December 1884 to January 1885
To read the review click here
---
Lenton Local History Society
General information about the Society, current programme of events and contact details
---
Research at the National Archives, Kew
Professional help offered for those wishing to access material from the National Archives
---